18 marzo, 2022
Staffing Shortages Are Top Patient Safety Concern: Report
Staffing shortages are the top patient safety issue on ECRI's 2022 list of safety concerns, released on March 14.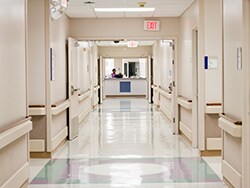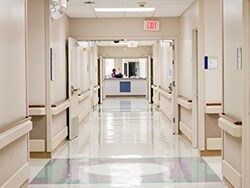 Besides the pandemic-related stress that has induced some nurses and doctors to leave their jobs, the nonprofit safety watchdog notes that a high proportion of nurses are at or near traditional retirement age. The median age of registered nurses in 2020 was 52 years.
Nursing schools are unlikely to be able to supply enough nurses to replace those retiring, the report states. ECRI notes that 80,000 qualified nursing school applicants were turned away in 2019 because of insufficient resources.
Physicians are also in short supply, and the situation is expected to grow worse, the report says.
Marcus Schabacker, MD, PhD, president and CEO of ECRI, told Medscape Medical News that the pandemic has aggravated staff shortages because it has led to a "a significant exit of healthcare professionals out of their professions."
Traveling nurses are not a solution to this safety concern, he says, because these nurses "don't know the facilities, their colleagues, or their equipment. We're concerned that traveling nurses are not appropriately trained and certified on using the equipment in these hospitals."
Also noted in the report as a patient safety concern was the mental health of frontline healthcare workers. Medscape's 2022 Physician Burnout & Depression Report found that 47% of physicians reported they are burned out. That number was 42% the year prior.
Vaccine Errors Proliferate
Another item that made this year's safety hazard list that was not on last year's list is vaccine coverage gaps and errors. The gaps include inadequate vaccination of the population, not only against COVID-19 but also against childhood diseases, flu, and pneumonia.
The most frequently reported vaccine errors in hospitals, community pharmacies, and other sites include wrong vaccine (23%), wrong dose (19%), expired vaccines or contamination/deterioration (19%), wrong age (17%), and wrong time/interval (8%).
Asked why there are so many errors, especially with COVID vaccines, Schabacker explained, "First, the COVID vaccine has a complicated supply chain — it has to be kept cold until it's administered. Its application was unfamiliar to clinicians, and a lot of people wanted to get it in a short period of time. Pharmacies and county health centers were also vaccinating people, and they didn't have people falling out of the sky who could do this. They had to pull them from somewhere else, and that also contributed to it."
ECRI is also trying to draw attention to the urgent issue of non-ventilator healthcare-associated pneumonia. While a lot of safety work has been focused on reducing ventilator-associated pneumonia, the cases not related to ventilator use comprise 65% of all pneumonia cases that originate in the hospital, the report notes.
"The non-ventilator-associated pneumonia has been going on for a long time, but it hasn't gotten the attention that it needs to fix it," Schabacker says. "We've made considerable progress on ventilator-associated pneumonia. With non-ventilator-associated pneumonia, because it's more amorphous and you can't pinpoint it to a particular intervention, it is more difficult and people don't tackle it."
FDA Hands Out EUAs "Like Candy"
ECRI is also very concerned about the emergency use authorizations (EUAs) that the US Food and Drug Administration (FDA) has been handing out "like candy" since the beginning of the pandemic, he said.
"The problem is that it's widespread: it's not just vaccines, it's not just PPE, it's also ventilators, infusion pumps, all sorts of things," Schabacker said. In fact, he noted, the FDA has issued thousands of EUAs. (The COVID-19 vaccines from Pfizer and Moderna have now received full FDA approval.)
"The requirements to prove efficacy and safety are dramatically reduced under an EUA vs a normal clearance," he notes. "We've addressed it with the FDA and the AHA [American Hospital Association], and we've had discussions with AdvaMed [Advanced Medical Technology Association], but it has gone by the wayside. There's a huge backlog of EUAs, and there are potentially unsafe products out there. The FDA revoked EUAs for some PPE products, for instance, because they weren't effective. Our fear is there are other products out there that are unsafe."
Telemetry monitoring has also set off alarms at ECRI. This continuous electronic monitoring of patients began to spread from ICUs to medical/surgical wards a few years before the pandemic. It was then touted as an aid to productivity, but it has created safety problems, ECRI says.
"There are more devices, and the ICU and OR nurses and physicians are used to using these monitors, but the general nurses may not be," Schabacker says. "So they may have trouble interpreting these signals and reacting to them appropriately. If you're a nurse who has to oversee 20 to 30 patients, some of them may have monitors, and others may not. Also, a lot of the monitors are motion sensitive, which can easily lead to false alarms, so the nurse has to run over and check it out. This can lead to alarm fatigue, where the nurse doesn't react to it at an appropriate time."
In addition, he observes, hospitals may run into technical problems with this telemetry if there are dead spots or areas not well covered by wi-fi in the hospital.
ECRI doesn't blame hospitals for not addressing these problems up to now, Schabacker says. "They were dealing with much sicker patients on the wards, because the ICUs were taken over by COVID patients. But now that we're out of the crisis, it's time to rethink it."
ECRI's top 10 patient safety concerns of 2022 are as follows:
Staffing shortages
COVID-19 effects on healthcare workers' mental health
Bias and racism in addressing patient safety
Vaccine coverage gaps and errors
Cognitive biases and diagnostic error
Non-ventilator healthcare-associated pneumonia
Human factors in operationalizing telehealth
International supply chain disruptions
Products subject to emergency use authorization
Telemetry monitoring
ECRI is a national, nonprofit organization that focuses on improving patient safety, promoting evidence-based medicine, and providing technology decision support to healthcare organizations.
Ken Terry is a healthcare journalist and author. His latest book is "Physician-Led Healthcare Reform: A New Approach to Medicare for All."
https://www.medscape.com/viewarticle/970187?src=soc_fb_220314_mscpedt_news_mdscp_staff&faf=1#vp_1
---
Créditos: Comité científico Covid