1 mayo, 2021
Trending Clinical Topic: P.1 Coronavirus Variant
Details about the transmissibility and potential vaccine resistance of the P.1 coronavirus first identified in travelers from Brazil resulted in this week's top trending clinical topic. The P.1 variant has been partially responsible for a deadly COVID-19 surge in Latin America. Research has identified mutations in the spike region used to enter and infect cells. A recent preprint study found that P.1 poses a higher risk for both transmission and reinfection (see Infographic below). Experts say that the mutations appear somewhat similar to those seen in the even more aggressive variant first identified in South Africa.
Of the four antibody therapies with emergency use authorization in the United States, only imdevimab retained any potency against the P.1 variant, according to a new study. Researchers found that the neutralizing ability of the other three monoclonal antibodies was "markedly or completely abolished." The study also exposed the P.1 variant to plasma from patients who survived COVID-19 as well as blood from individuals who received the Pfizer/BioNTech or Moderna vaccines. The vaccine-induced antibodies and plasma were less effective at neutralizing P.1 compared with the original version of SARS-CoV-2.
A team of researchers from FIOCRUZ, a large public health research laboratory run by Brazil's Ministry of Health, have identified 11 variants, including P.1, from five different Brazilian states. Each demonstrated changes to the receptor-binding domain and changes to the N-terminal domain (NTD). Many of the NTD changes were key deletions around Y144, a mutation that has arisen independently in other circulating variants and has been documented in viral mutations in convalescent patients with cancer, suggesting that it conveys an important advantage to the virus.
According to the new criteria established by the Centers for Disease Control and Prevention and World Health Organization  to classify variants of SARS-CoV-2, P.1 was designated a "variant of concern." Others in that category include B.1.1.7, which was first identified in the United Kingdom, and B.1.351, which was first identified in South Africa. Thus far, P.1 has shown moderate ability to evade vaccination, like B.1.351.
The mRNA vaccines (Pfizer/BioNTech, Moderna) are four- to sevenfold less effective against the P.1 variant. However, they still appear to offer an important "cushion of protection," especially after two doses, and should still prevent disease, says Anthony Fauci, MD, director of the National Institute of Allergy and Infectious Diseases. The B.1.351 variant is more concerning; the AstraZeneca vaccine was shown to be 86 times less effective against it, with mRNA vaccines six- to eightfold less effective. The Johnson & Johnson vaccine also had less efficacy in populations where B.1.351 was surging.
In more encouraging news, new Moderna vaccines designed to protect against both B.1.351 and P.1 showed promising results in mice. The company tested a single-dose "booster" for mice who had previously received both doses of the original Moderna vaccine as well as a separate, new two-shot version that combined the original vaccine with the booster in mice that had never been vaccinated. Preprint results showed that the animals had significant levels of antibodies against P.1 and B.1.351, and trials are underway in humans.
Experts point out that substantial data are needed when considering whether a variant is actually consequential or simply a "scariant," a term used to describe mutations that may not present significant danger. For now, the P.1 variant originally identified in travelers from Brazil remains a "variant of concern" and is this week's top trending clinical topic.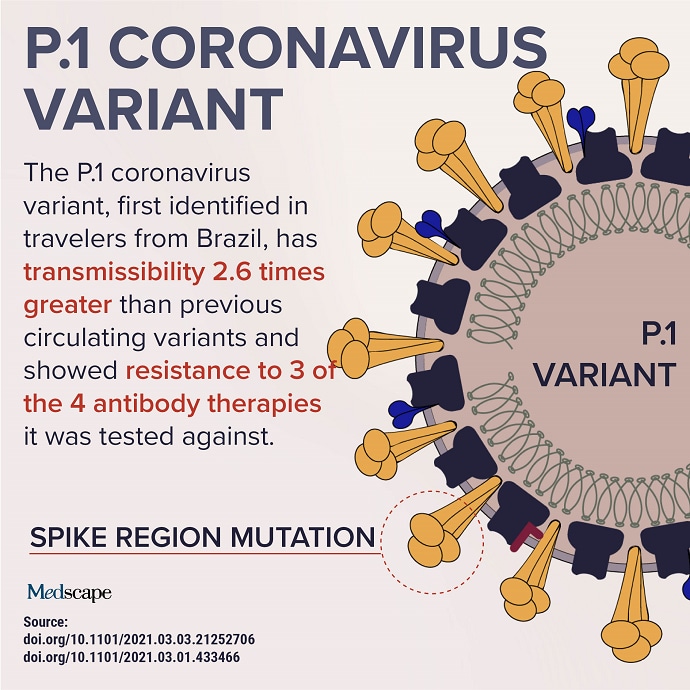 ---
Créditos: Comité científico Covid